Week 3
In this week, I went to the movie rental shop and look for some movies. I got 3 interesting movies which I have never seen it before. Saying frankly, I actually wanted to get some more serious and more drama movies, but I didn't get in mood to see that serious ones. So, I got these instead, kind of relaxing movies. Some people may say that I have seen them all. Of course, these are good and awarded movies that worth seeing.
1. Night at the Museum
2. The Chorus
3. Dreamgirls
I came back home and watched the first movie "Night at the museum". This is a comedy plus fantasy movies. It's a story of Larry Daley, the unemployed man, who leads unstable life in the big city. He has been divorced and he has the only son whom he loves very much. Unfortunately, because he is unemployed, he always disappoints his son and he is ashamed to show off in school meeting. He wants to become parents that his son can be proud. So, this drives him to find some work and finally he is hired as a museum night watchman. Soon he discovers that there are something unusual in this museum. All the exhibits in the museum come to life after sunset! the lion, the copper statue, the T-Rex fossil skeleton, the Roman and cowboy tiny miniatures and everything that are supposed to be dead come to life and walk in the museum at night !. Then museum is put into a chaos. He has to figure out a way to control the chaos and become a hero in his son's eyes.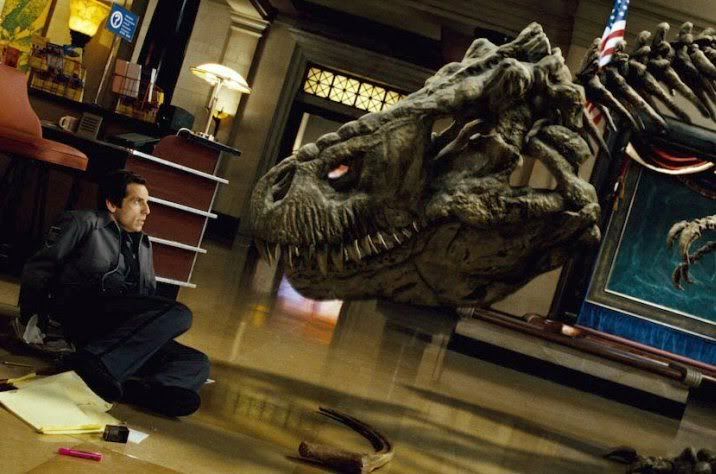 This is American comedy movie and typically I think it should be easy to understand, but it's not. I admit that Ben Stiller, who acts as Larry, talks very fast. He doesn't speak word by word or emphasize the stress on the word. His speeches are too flowed to catch. However, I can distinguish his speaking style with another character like the president who speaks very clearly and easier to understand than Ben. For this movie, I evaluate myself of understanding in listening skill about 60%
For the next movies, The Chorus or Les Choristes in French, I rent this one because I've heard the reputation of this movie for a long time, but I never have a chance to see it really. I thought this is an ordinary English movie. Surprisingly, it's a French's! Since they all speak French, I couldn't evaluate anything from this movie. However, from all 3 rent movies, this movie impressed me most. Now I know why my friend told me to see this one. It involves in the field of our study and it also shows the way of teaching and more than anything is teacher's spirit. It's the story of musical teacher who dedicates all his life for music and all his beloved students. The story began with a famous conductor, Pierre, who came back to his hometown and accidentally found a notebook of his old teacher. As looking at the book, it filled him with nostalgia that put the story telling back to 50 years ago when he was a kid in the school named Fond de L'etand. The story was presented via the Pierre's point of view which had been one of those students. And in the movie, you will see the life of poor teacher with kindness, generosity, self-sacrifice, and dedication. I think everyone should have to see this movie. It's really good one. Recommend to see!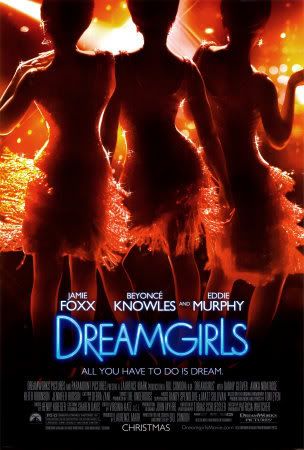 The last movie, the Dreamgirls, I think anyone know it well. It's the story of three girls who dream to become superstars. They are all skills and abilities, but what they lack is opportunity and supporters. To become the superstars isn't that easy. Even they are offered the opportunity and already become the superstars, but the cost of prosperity and fame has to be exchanged with something important in life as well. We see human's ambition, dreaming, betrayal, and one crucial thing I have to mention in this movie is the discrimination. This movie shows how the Black are discriminated obviously. Therefore, this movie not only gives us exciting entertainment, but if we watch it profoundly, we'll also add some aspects connected to our lives. We can widen our eyes to see this small world.
The reason I choose to see this movie, not only because of interesting show and beautiful song, but also because it's the movie of American-African or black people. So, the language used in to movie will be different from normal English. I can catch some words that can be considered as the characteristic of Black people such as "Hey, bro!" or they put the word "baby" at the end of sentences. Also they speak hip-hip like in normal speech especially James Early. I found that women's accent are understandable than men's. Comparing to "the Night at the Museum", I understand the language in this movie more. For this movie, I evaluate myself of understanding in listening skill about 70% - 80%.
Well, watching these three movies took about 6 hours and my eyes were tired. But my heart wasn't. I'll keep watching movie more frequently and I'll show you what I've got. See you next time.